[바이오스토리] GO3A-Glucose oxidase
| | | | |
| --- | --- | --- | --- |
| 작성자 | 관리자 | 작성일 | 2023-02-24 |
| 조회수 | 3,723회 | 댓글 | 0 |
본문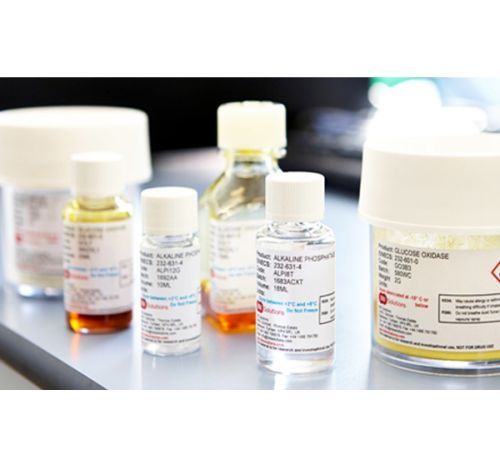 Product Details
How can Glucose Oxidase be used? Glucose Oxidase (GO) is used in liquid and powder glucose laboratory reagents, urine test strips, colorimetric blood glucose strips and biosensors for blood glucose monitoring. What makes BBI a leading manufacturer of Glucose Oxidase? With over 60 years' experience supplying critical raw materials to the diagnostics industry, BBI Solutions (BBI) is renowned as one of the world's leading providers of high quality enzymes for biosensor applications. BBI's Glucose Oxidase is tried, tested and proven to perform in over 5 billion test strips every year. The high activity and stability of our GO means you use less enzyme per strip – reducing costs, while increasing the speed, accuracy and longevity of the strip, and it's a proven raw material, which reduces validation time. Our manufacturing procedures, which have been developed and optimised over many years, ensure a product of the highest quality, stability, and batch-to-batch consistency, providing sensor and reagent manufacturers with a range of Glucose Oxidase products with proven performance.
More information
Attributes
Description
Abbreviations - GO, GOX
Associated Activity - -amylase: less than 0.05%Saccharase: less than 0.05%Maltase: less than 0.05%GO/Cat: greater than 2,000
Lead Time - 7 weeks
Storage - Store desiccated at -15°C or below. Allow to come
Shelf Life - 3 years
Source - Aspergillus niger
Activity - 360 U/mg protein (324-396 U/mg protein, approximately 270 U/mg material)
EC Number - 1.1.3.4
Solubility - Dissolves readily at 5mg/ml in 0.1M potassium phosphate buffer, pH 7.0, to give a clear, yellow solution.
Systematic Name - -D-Glucose:oxygen 1-oxidoreductase
Unit Definition - That amount of enzyme causing the oxidation of one micromole of glucose per minute at 25°C and pH 7.0.